So when Pete and the Powers That Be asked me to become the brand & design manager at the relaunched Clandestine a few months back, one of the few artists I knew we had to work with was Orange County, CA native Brandi Milne. She's a regular at my other job (yes, I'm sort of Jamaican and also totally into stereotype-based humor), showing numerous times at Gallery 1988: LA and SF, as well as a graphic design veteran, making shirts for Hurley, product for Gelaskins and her own children's book, "So Good For Little Bunnies," which was released in 2008 through a publisher called Baby Tattoo. She's one of my favorite people in the universe and I knew she was a great fit for Pete and my vision for the new Clan, so we turned to her for the first actual Clandestine project I would spearhead, our recent collaboration with Wet Seal. Before we get into the shirt (and from now on I'd love to have a feature on the blog, where you see a garment from idea to completion documented. I'll keep all the sketches and such from now on), let's show you some of Brandi Milne's fine art, which is beautiful.
We were approached by Wet Seal to create a co-branded piece, and Pete and I had brainstormed the idea of the shirt not only being "cute," but basically bleeding cuteness out of every orifice. So cute that it made your teeth sting. So I went to Brandi, who had some amazing ideas and sketches almost immediately. Pete and I decided we'd go with a t-shirt, since it just felt right, and we wanted it to be a shirt with a loud, bright character smiling right at you on the front. We loved an idea Brandi had to go with joyful popsicles, so here's what it turned into in the end: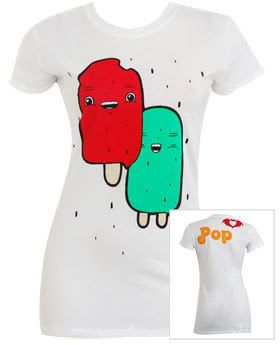 So that was the first piece you could pick up that has my total stank on it, and Brandi Milne did an incredible job. And you still CAN buy it from Wet Seal by
clicking here
. And Brandi has the "Bomby McGee" shirt coming out in the February relaunch, which we (and the NY Times) has shown off, as well as a few other top secrets in the mix with PW and gang - so stay up like 88 Keys. You can see more of Brandi's work by
clicking here
.